WOW.. its Easter time already?
If you are anything like me, then you have a Pinterest board full of ideas and recipes for your Easter brunch, and for good reason. They all look so pretty and delicious. But let's be honest, most pins on these boards get unused. Right? Because no one has time to try the thousands of recipes that are available on Pinterest all before Easter brunch.  
How can I help? No, I am not going to try every recipe on Pinterest for you.
But I can help narrow it down!
Every recipe you will see on this post are recipes I have already tried and gave them 4 stars! 
1 Life Made Sweeter's Overnight Blueberry French Toast Bake
This casserole has literally saved me so many times because you can do it the night before! Instead of whipped cream I throw together a homemade icing to drizzle all over it right before it being served. SO DELICIOUS
Ingredients
Streusel Topping:
1/3

 

cup

 

all-purpose flour

1/3

 

cup

 

brown sugar

 

can substitute with coconut sugar

1/4

 

teaspoon

 

ground cinnamon

4

 

Tablespoons

 

unsalted butter

 

cold and cubed
Casserole:
1

 

16-ounce

 

loaf of French bread or sourdough bread

 

day old bread works best; cut into 1-inch cubes with the ends discarded

1/2

 

cup

 

cream cheese softened

 

optional - leave out if preferred

2/3

 

cup

 

maple syrup or honey

 

divided

1

 

tablespoon

 

brown sugar

 

can substitute with coconut sugar

1-1/2 - 2

 

cups

 

blueberries

 

divided; fresh or frozen

6

 

large

 

eggs

1-1/2

 

cups

 

milk

 

I used almond milk

1/2

 

teaspoon

 

ground cinnamon

2

 

teaspoons

 

pure vanilla extract
2 Cheesy Spinich and Mushroom Quiche
This recipe is so easy! I definitely skip the dough making and go for the freezer section made pie crusts. If so, I would skip the prebaking your crust and just set your oven at 350 degrees and #4 on the list. 
Also another recipe good to make ahead of time. I usually will cook the spinish, mushrooms etc in a skillet then in a zip lock bag, add the eggs and cheese and put it in the fridge to pour into the pie crust in the morning!
Ingredients
1 pie crust, homemade or store bought
4

  large eggs

1½ cups Heavy Cream
4 oz. White Sharp Cheddar Cheese, shredded
4 oz. Gruyere Cheese, shredded
1 Small Onion
½ teaspoon Coarse Kosher Salt
¼ teaspoon Pepper
1 tablespoon Butter
½ tablespoon Extra Virgin Olive Oil
1 pint (8 oz.) Baby Bella Mushrooms, sliced
2 cloves Garlic, Minced
6 oz. Baby Spinach
Instructions:
Preheat oven to 425.
Unroll pie dough into a deep dish pie pan, prick all over with fork.
Prebake pie dough for 12 minutes, remove and set aside. Reduce oven temperature to 350.
Whisk together eggs, salt, pepper and heavy cream; stir in cheese set aside
In a large skillet over medium heat, melt butter, add olive oil.
Add mushrooms and onion,  about 8 minutes
Add garlic and cook for an additional minute.
Toss in spinach and cook until just wilted. Allow mixture to cool for about 10 minutes.
Stir the vegetable mixture into the egg mixture and pour into pre baked pie crust.
Place onto a rimmed cookie sheet and bake for 45 minutes or until set.
Lightly cover with foil if crust is getting dark.
3 Fluffy Carrot Cake Cinnamon Rolls
Now this recipe.. I got no shortcuts for. BUT WOW. they are awesome! And during easter- festive as well! 
Ingredients
Dough:
3/4

 

C

 

milk

2 1/4

 

tsp

 

active dry yeast

1/4

 

tsp

 

granulated sugar

4 - 4 1/4

 

C

 

all purpose flour

6

 

Tb

 

light brown sugar

1/2

 

tsp

 

salt

1

 

tsp

 

cinnamon

1/2

 

tsp

 

ground nutmeg

2

 

large eggs

1 1/2

 

tsp

 

vanilla extract

1/4

 

C

 

unsalted butter

 

melted

3/4

 

C

 

carrots, finely shredded

 

(roughly 3 carrots)
Filling:
3

 

Tb

 

unsalted butter

 

softened

3/4

 

C

 

light brown sugar

1 1/2

 

tsp

 

cinnamon
Icing:
4

 

oz

 

cream cheese

 

softened

1/4

 

C

 

unsalted butter

 

softened

2

 

C

 

powdered sugar

1/2

 

tsp

 

vanilla extract

3-4

 

Tb

 

milk
Instructions
Heat milk to 115°F. Dissolve yeast and granulated sugar in warm milk. Allow to proof for 5-10 minutes. 

Add vanilla to melted butter. 

Meanwhile, in the bowl of a stand mixer, combine 4 cups flour, light brown sugar, salt, cinnamon and nutmeg. Prepare mixer with dough hook attachment. With mixer running on low, slowly add yeast mixture, followed by butter and vanilla. Add one egg at a time. Add finely shredded carrots. Increase speed, mixing until dough comes together. If dough is still sticky, add additional flour, one tablespoon at a time until dough comes together in a smooth ball. Transfer dough to a large greased bowl. Cover and allow to rise in a warm location for at least 60 minutes or until doubled in size. 

Lightly grease a 9x13-inch baking pan with baking spray. *See note. 

In a medium bowl, combine brown sugar and cinnamon. 

On a silicone counter mat, roll out dough to a 12-20-inch rectangle. Brush entire surface with melted buter. Sprinkle well with brown sugar and cinnamon mixture. Starting at one of the short ends, begin rolling the dough into a log. Pinch to seal ends. Using a sharp knife, carefully slice dough log into desired number of rolls. **See note. Space evenly in prepared pan. Cover loosely and allow to rise in a warm location for an additional 60 minutes. 

Preheat oven to 350°F. 

Bake for 30-40 minutes or until internal temperature reaches at least 200°F. Allow rolls to cool for 20-30 minutes before adding icing. 

To create icing, in a large bowl or stand mixer, beat together cream cheese and butter until light and fluffy. Mix in vanilla and powdered sugar. Add in milk, one tablespoon at a time, until desired consistency is reached. Pour or spread glaze over rolls.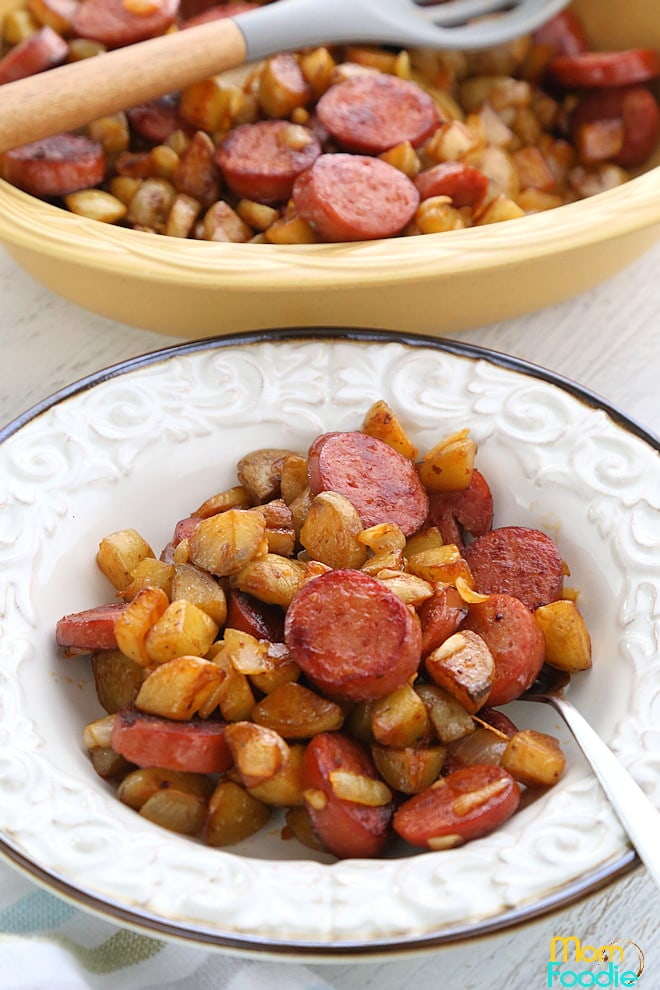 Now if you are Polish, there is nothing that says Easter more than Kielbasa. I remember getting all my egg related foods at Easter brunch but ultimately just waiting to get to all the kielbasa. I also will say the type of kielbasa you get makes a big difference. If you can, skip the normal supermarket kielbasa and look up your neighborhood Polish/European deli or market. Get Krayana. You will thank me later!
Ingredients
16

 

oz.

 

kielbasa sauasage

1 1/4

 

pounds

 

potatoes

 

5 medium sized (yukon or red)

1

 sweet 

onion

 

, chopped

1/2

 

tsp.

 

paprika

1

 

clove

 

garlic

 

minced

1/3

 

tsp.

 

Kosher salt

1/4

 

tsp.

 

oregano

 

or Italian seasoning
Instructions
Preheat skillet on med-high heat.

Cut the kielbasa sausage into slices, and drop in the heated pan. Stir while frying.

As kielbasa is browning, chop the onion and potatoes.

Once the sausage has browned for approximately 6 minutes, scoop it out and put aside. Much of the fat will have rendered. Make sure to leave grease in the pan.

Dump the chopped potatoes into the hot skillet with the kielbasa grease. Add the paprika, salt and oregano. Stir to coat in the fat and reduce the burner to medium to medium-low. Cover.

Brown the potatoes for 13 minutes, stirring regularly.

Add the onions and garlic. Cook for about 12 minutes. Covered, but stirring regularly.

8.Once the potatoes have softened and onions are cooked add the kielbasa back into the pan mix in and all cook for 4 minutes.

 
AND LASTLY...
5. Tonga Toast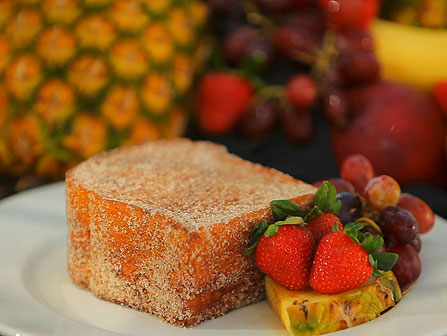 Now honestly, we live in such a world that Disney is everywhere. THANK GOODNESS! Because otherwise it would be hard to figure out this fan favorite recipe! Usually you have to go all the way to the Polynesian Hotel at WDW to get this beauty but it is super easy to make and so delicious! Pair it with some fruit, a strawberry compote or good old maple syrup! 
Serves 4
Ingredients:
Sugar-Cinnamon Ingredients:
3/4 cup granulated sugar
2 teaspoons cinnamon
Batter Ingredients:
4 large eggs
1 1/3 cup whole milk
1/4 teaspoon cinnamon
1 tablespoon granulated sugar
Tonga Toast Ingredients:
1 quart canola oil, for frying
1 loaf sourdough bread (uncut, 12 inches long)
2 large bananas, peeled
Instructions:
For cinnamon-sugar:
1. Mix sugar and cinnamon in medium bowl (large enough to roll toast) with a fork until thoroughly blended. Set aside.
For batter:
1. Whip eggs in medium bowl (large enough to dip toast) until well beaten. Add milk, cinnamon, and sugar. Mix well and set aside.
For Tonga toast:
1. Preheat oil to 350 degrees F in a large pot or a deep fryer. (If using a large pot, use a candy thermometer to make certain the oil does not get any hotter or it will burn.)
2. Slice the bread into four three-inch-thick slices.
3. Cut each banana in half crosswise, then each piece lengthwise.
4. Place a bread slice flat on the counter and tear out just enough from the middle (do not tear all the way through) to stuff half a banana into; repeat with each bread slice.
5. Dip stuffed bread into batter, covering both sides, allowing excess batter to drip off bread and place carefully into hot oil.
6. Cook 4-5 minutes until golden brown. If needed, turn toast over after 2 minutes and cook for another 2 minutes on other side. Remove and drain excess oil.
7. Roll toast in cinnamon-sugar. Repeat for each piece of toast.
Thanks for reading!